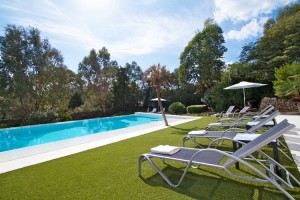 Posted on: 04/16/2016
Villas de Pollensa have been carefully handpicking villas in the North of Mallorca for over 25 years. We are proud of our portfolio of holiday villas in Mallorca and apartments and our high standards of quality and service. The most beautiful and picturesque area of Mallorca is the Pollensa region which has a unique charm and beauty and is the ideal destination for quality, family villa holidays. . Our other Pollensa villas are located include Cala San Vicente, another of the best-kept secrets in the North of Mallorca. It's a quiet and relaxed resort surrounded by mountains with pine-covered slopes that run down to the sea. The sparkling blue waters and the three sandy coves are very child-friendly. The spectacular countryside here is also ideal walking country, popular with ramblers and painters.
We now offer holiday villas in Pollenca, Puerto Pollenca, Cala San Vicente and Alcudia. Villaspollensa.com will offer you a magnificent range of exclusive services plus a lot, lot more….
Pollença
Pollença Old Town is a peaceful and tranquil town that remains very typically Spanish. It is four miles from the coast, nestled between two hills at the eastern end of the Tramuntana Mountains, meaning that our Pollenca villas enjoy amazing views. Pollença itself is indisputably pretty; historic buildings with ochre roofs, sun-baked walls and wooden shutters line the narrow and twisting medieval streets. There are pastel-painted houses in the centre and Moorish water mills on the outskirts. It's also a haven of sleepy Mallorcan traditions - café life and the siesta roll on here as they always have. The heart of the old town is the central square, Plaça Major, where there are many café-bars and fine restaurants. Pollença also has lots of galleries of Mallorcan art and design, and a town museum. The most famous walk in Pollença is up the 365 steps of the tree-lined 'Calvario' - the Calvari Hill. There is a tiny church at the top with amazing views over the town and across wooded valleys to the sea; many people make a special effort to enjoy this walk whilst enjoying a stay in villas in Pollenca.
Beaches and Countryside
Puerto Pollensa is host to long sandy beaches that curve around the bay and are divided by breakwaters and so are ideal for children. There are also a number of small, natural, sand and pebble beaches to explore. The atmosphere in Puerto Pollensa is relaxed with no loud discos or nightclubs, but a fine variety of open-air cafés, restaurants, boutiques and shops.
Villa Mar Blau is located close tot his amazing Beach called Mal Pas[/caption] Bonaire and Mal Pas is an exclusive residential area on the peninsula around the bay of Pollença towards Alcudia with a pretty marina called Puerto Cocodrilo and a lovely sandy beach called Mal Pas. The countryside around Pollenca Old Town and Puerto Pollensa is amongst the most stunning and picturesque in the Mediterranean. Lush green dramatic valleys, littered with grazing mountain goats and sheep, sit alongside beautiful rural farmland hills that are dotted around picturesque monasteries and farms; the typical view from your garden here. The great advantage of our villas in Pollensa is that you are only within 5-10 minutes drive of supermarkets, restaurants and bars of the Old Town and Puerto Pollensa should you wish to drag yourself away. Choose one of our private Pollensa villas or farmhouses here to appreciate this stunning location and be the envy of your friends.
Local knowledge since 25 years
Taste: Pollença old town boasts some of the best restaurants on the island. From traditional Mallorcan to international cuisine, each has its own blend of atmosphere and tradition. Weekly Market: It's especially lively in Pollença on market day, every Sunday morning, with stalls selling fruit, flowers, local crafts, clothes and household goods. Useful for stocking up on souvenirs of your Villa holiday. Discover: Pollença is nestled between two hills. One of these hills is Puig de Maria with an 18th-century monastery perched on the summit - a walk to the top is well worth the effort for spectacular views over Pollença and down to the sea.
Supermarkets: Large Lidl / Eroski Centre situated just off the main Pollença to Puerto Pollença, plus two in the town centre.
Come and visit Pollenca, the best holiday destination of the Mediterranean!
Article produced by Villaspollensa.com your perfect partner for your greatest holiday ever in Mallorca