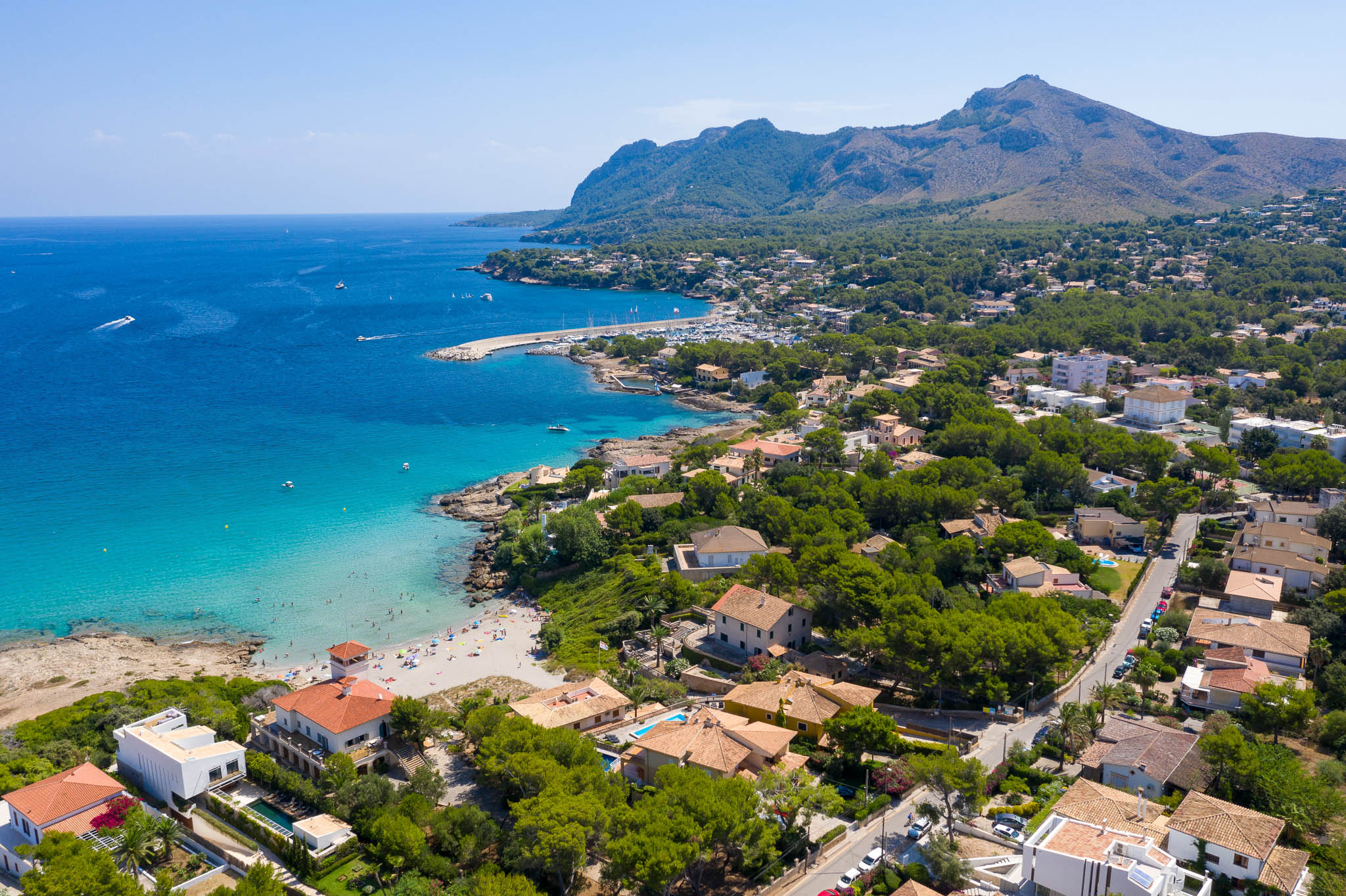 10 Amazing things to do in Puerto Pollensa When Booking Your Holiday Villa
Posted on: 10/30/2023
Puerto Pollensa is a picturesque holiday resort that is nestled on the charming Northern coast of Mallorca. Among the tourist resorts in Mallorca, Puerto Pollensa or Port de Pollença is renowned for offering a captivating blend of breathtaking natural scenery, laid-back charm, and rich history.
With its glistening clear waters, idyllic landscapes, vibrant markets, white sandy natural beaches, and exciting outdoor activities, this beach resort has become a popular choice for tourists seeking a tranquil and relaxing holiday experience.
In this Puerto Pollensa guide, we will explore the 10 amazing things to do in Puerto Pollensa when booking your holiday villa with Villas Pollensa and tell you why these things should be on your must-visit list. Let's begin!
1. Visit the Stunning Beaches to Relax On
Puerto Pollensa has fantastic beaches to choose from and enjoy a relaxed day. There is Puerto Pollensa Beach, a beautiful sandy beach with many umbrellas, bars, chairs, and sports facilities. You can take a refreshing dip in its clear waters or relax on a sun lounger. In addition, there are more gorgeous beaches on the resort.
Some of our favorite hidden gems are:
Formentor Beach: This is the most stunning beach, a 20-minute drive from Puerto Pollensa. Let's discuss this must-visit spot in detail in the below section.
Cala Boquer: Head to this secluded beach for a tranquil escape and a great hike.
Pine-fringed Albercutx Beach: It's a smaller option and perfect for families due to its shallow waters and shaded spots. This prettiest, quiet beach is close to Puerto Pollensa Center.
2. Visit Cala San Vicente
Cala San Vicente is a quiet, small resort village in the Pollensa region with three stunning beaches and a few restaurants, high-end hotels, and shops. Calla Barque is the biggest beach, Cala Molins is a smaller beach, and Cala Carbo is a tiny one surrounded by pebbles and lush greenery. Cala Molins is best of all, a 50-meter sandbar with epic vistas of Cap de Formentor. You can reach the village via bus, car, cycle, or hiking.
3. Take a Day Trip to Formentor
One of the amazing things to do in Puerto Pollensa is to visit stunning Formentor Beach. The day trip to the beach is picture-perfect. You can stop at the Mirador d'es Colomer for spectacular views of Cap de Formentor and the ocean. The beach is surrounded by pine trees that cast shade on the shallow waters and narrow beach, protecting from blazing sun. If you do not have a car, you can also go from the resort to the beach by boat, which is an excellent option in high season.
4. Take a Stroll Along Magical Pine Walk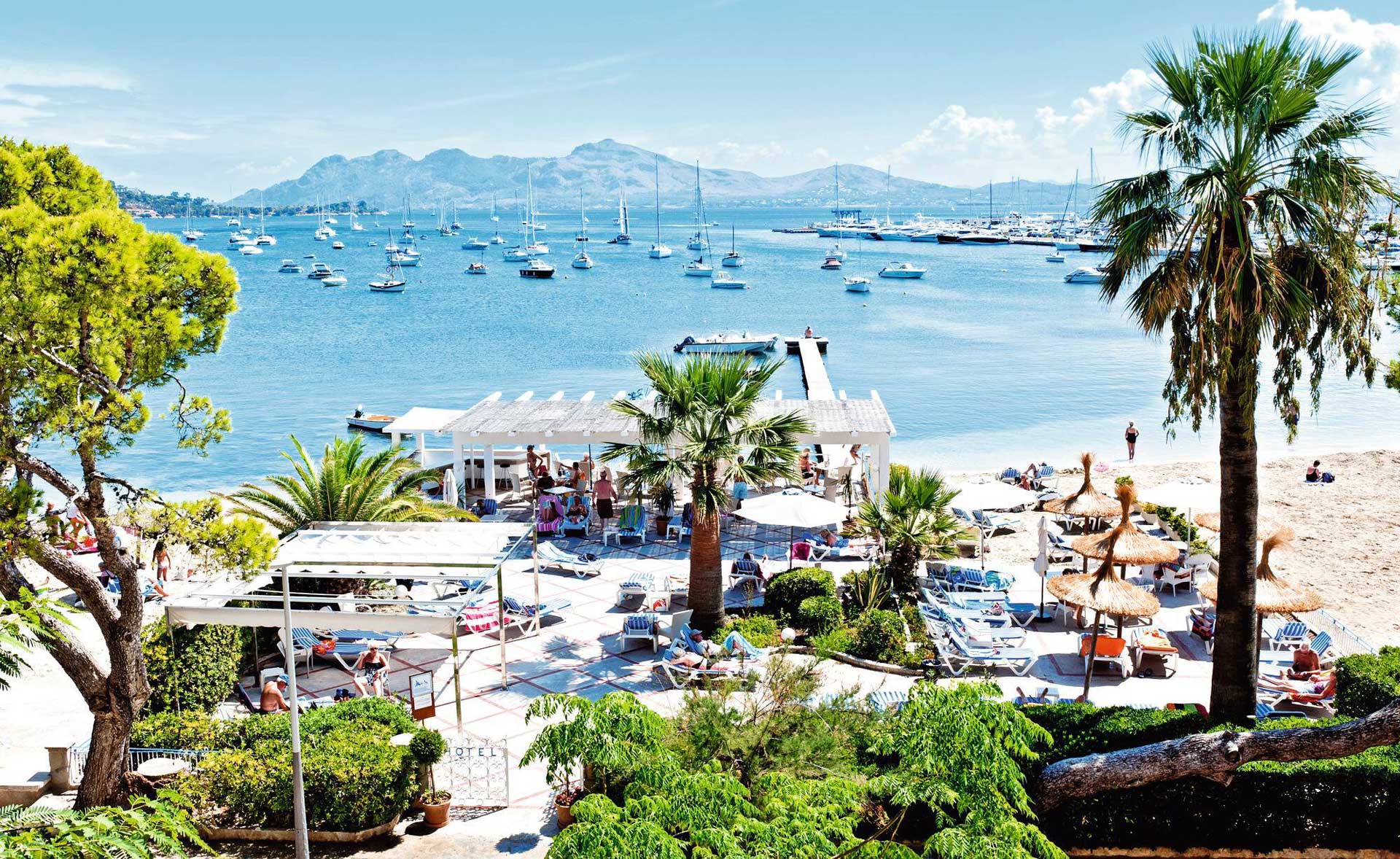 The Pine Walk in Puerto Pollensa provides a beautiful panoramic promenade along the waterfront as well as a peaceful beach to enjoy the sunshine. It makes for a lovely evening and morning walk, cycling, jogging, and skating.
Enjoying Pine Walk is an excellent opportunity to see some impressive villas in Majorca. Along the Pine Walk, there are several holiday apartments with some picturesque bay views.
5. Visit Alcudia Old Town and Explore its Roman Ruins
Alcudia Old Town is a walled historic town that boasts atmospheric cobblestone alleyways and Roman ruins. You can walk around the top of the town walls for stunning city views and the surrounding countryside. There are several great places to eat and drink, such as Osteria El Patio.
6. Take a Hot Air Balloon Ride
One of the fantastic things to try in Puerto Pollensa that you will remember all your life is to take a hot air balloon ride. It is a popular and fun activity to explore the Mallorca island. This superb ride takes place around sunrise, the magical time of the day. You will enjoy the stunning views, including the rising sun on the horizon, the Tramuntana mountain range, and the coastline.
7. Go for a Hike
The area around Puerto Pollensa is best for passionate hikers to go hiking. The town is surrounded by the Tramuntana Mountains, which creates a unique landscape and endless hiking opportunities. Visit Puerto Pollensa for hiking in Spring and Autumn to enjoy trails without summer heat.
8. Go on a Boat Trip Around Puerto Pollensa
Embark on fabulous boat trips around Puerto Pollensa to explore nearby attractions and a stunning coastline. Cruise along the waves, enjoy the magnificent cliffs, explore hidden coves, take dolphin spotting tours, and visit the charming village of Cala Figuera.
9. Explore Pollensa Old Town
Visit Puerto Pollensa's old town during your holiday to see unique architecture, admire Roman history, and try some amazing eateries. This historic town is well worth a visit for its charming winding streets and spectacular Calvari steps. If you love shopping, go there on weekends to enjoy the Sunday Market.
10. Kitesurfing
Hit the waves by indulging in water sports. Can Cap Bou Beach provides the ideal conditions to go kitesurfing. Water is packed with colorful kites every afternoon, which is fun to watch. You can take classes to get started. Mallorca Kiteboarding offers lessons and rental equipment.
Where to Stay in Puerto Pollensa
If you're looking for perfect accommodation in Puerto Pollensa, Villas de Pollensa has got you covered. We're here to provide you with luxury apartments and villas for a great holiday in Northern Mallorca. By booking a holiday villa with us, you can enjoy all these amazing things and have the best vacations ever.
Feel free to visit our website and call us to get the best offers for our holiday villas in Puerto Pollensa!